Edmund Rice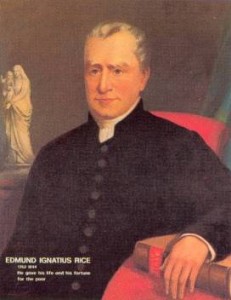 Blessed Edmund Ignatius Rice
1762-1844
Founder of the Irish Christian Brothers
Founder of the Congregation of Christian Brothers, the first congregation of men to be founded in Ireland since the time of St Patrick, Edmund Rice was born in 1762 in Callan, County Kilkenny. He was educated first at home, then in a "hedge school," and finally in Kilkenny. Mr. Rice married and became a prosperous merchant and a leader of Catholic activities in the City of Waterford.
Upon the death of his wife, Edmund had intentions of entering a monastery on the continent, but the Bishop of Waterford encouraged him to stay in Ireland and begin a school for poor boys. Thus in 1802, Edmund rented a house, engaged the services of two young men, and opened a school. Some three hundred boys of all ages flocked to him. Not accustomed to the routine and discipline of school, they must have tested the courage of their masters, for the two paid teachers soon wearied and left Edmund alone. Edmund persevered, however, and God rewarded his confidence when two other young men offered themselves as voluntary helpers in his enterprise. The new school effected such a transformation among the youth of Waterford that Edmund soon opened schools in other cities. Additional helpers came, and he organized them to live together and follow a religious rule of life. Pope Pius VII gave papal approval to the Congregation in 1820, and in 1892 Brother Rice was elected the first Superior General of the new congregation. After opening additional schools in Ireland and England, Brother Edmund Rice died on August 29, 1844, at Mount Sion, Waterford.
On October 6, 1996, Edmund was named "Blessed" by Pope John Paul II in Rome. Thirty-four members of the Brother Rice community, including students, teachers, alumni, alumni parents, and board members, attended the ceremony. Pope John Paul declared May 5 as the annual universal feast day for Blessed Edmund Rice.
Blessed Edmund Rice Prayer
O God we thank you for the life of Edmund Rice
He opened his heart to Christ present in those oppressed by poverty and injustice
May we follow his example of faith and generosity
Grant us the courage and compassion of Edmund
as we seek to live lives of love and service.
We ask this through Christ Our Lord. Amen.